Two-piece thread ball valve is suitable for PN1.0~4.0MPa, working temperature -29~180℃ (the seal ring is reinforced PTFE) or -29~300℃ (the seal ring is para-polyphenylene), used to cut off or connect the medium in the pipeline, choose different materials, can be applied to water, steam, oil, nitric acid, acetic acid and other media.
Threaded connection ball valve body casting adopts advanced technology, reasonable structure and beautiful shape. The valve seat adopts elastic sealing structure, with reliable sealing and easy opening and closing.
The valve stem adopts the inverted seal under installation structure, when the valve cavity is abnormally pressurized, the stem will not be flushed out.
Two-piece and three-piece ball valves are available in butt weld (BW) and socket weld (SW) connections, and can be equipped with international standard ISO bracket platform and locking device.
Can be set 90 ° switch positioning mechanism, according to the need to add a lock to prevent misoperation, drive mode: manual, electric, pneumatic.
FEATURES:
Blow-out Proof Stem
Investment Casting Body
Pressure Balance Hole in Ball Slot
Various Thread Standard Available
Locking Device Available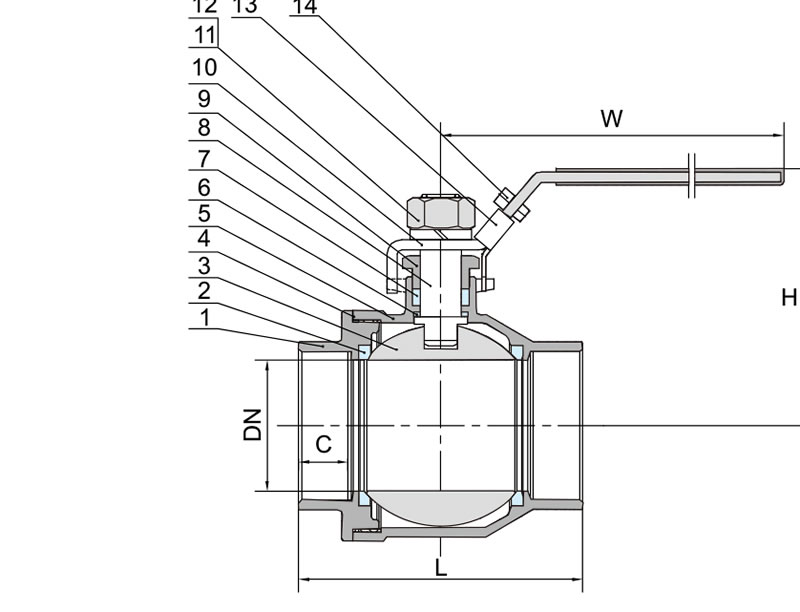 STANDARD:
Design: ASME B16.34
Wall Thickness : ASME B16.34,GB12224
Pipe Thread : ANSI B 1.20.1,BS 21/2779
DIN 259/2999,ISO 228-1
Inspection&Testing : API 598